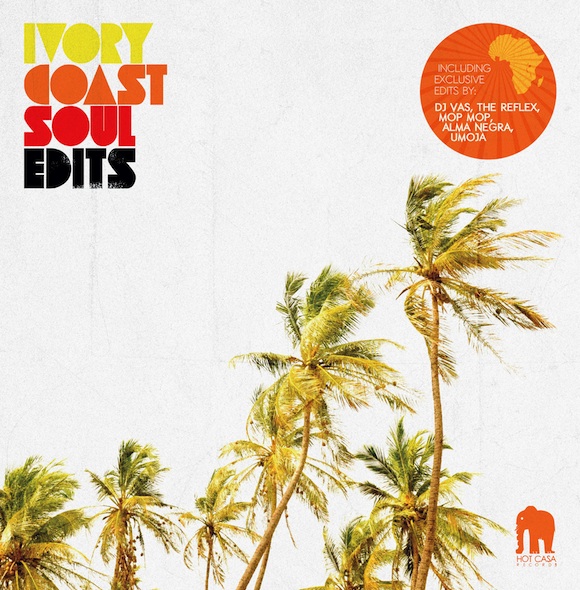 Available May 12th 2014, as 12inch & Digital
Label : Hot Casa Records
TRACKLIST:
A1. Jimmy Hyacinthe: Yatchiminou ( Dj Vas Edit ) 6.00
A2. Houon Pierre: Mansou Djouwi ( The Reflex Edit ) 6.23
B1. François Lougah : Bravo Sotra ( Mop Mop Edit ) 6.20
B2. Okoi Seka Athanase: Melokoton Membun Ou ( Alma Negra Edit ) 4.40
B3. The Sumo Brothers : I Love Music ( Umoja Edit ) 5.29
Cat Number HC28
Format 12inch
UPC 3760179352764
Release Date May 12th 2014
Distribution The Pusher Dist.
Infos
The Ivory Coast Soul compilations revisited by the best international DJs from the Afro-Soul and Tropical-Funk scene. A really mind-bending collection of Ivorian grooves recorded in the 70's in Abidjan, edited by few of the best contemporary producers.
DJ Vas (France), DJ The Reflex (France), Mop Mop (Germany), Alma Negra (Switzerland), Umoja (Netherland) add their own flavors with massive new funk mixes, whilst cutting with dexterous percussive textures on the original versions. They bridge the gap between the new and the old, connect the dots and bring a new life on these rare old tracks.
From Funk, to Disco, to Soukous, to traditional Ivorian Soul music of the "maquis" from Abidjan, here's a new collection of vintage horn-flanked tunes mixed with future club sounds!
A quintet of wonderful mixes and remixes which blend original Afro funk instrumentation with contemporary dancefloor style.
The Ivory Coast Soul Edits are officially licensed!